Welcome to Moosie's Ice Cream Parlor
Welcome to Moosie's. Come and enjoy 32 flavors of Cedar Crest Ice Cream, shakes, floats, malts, Moose treats…AND NOW Fire-Baked Pizza.
Here's How to Find Moosie's
Click on the map to get directions
301 N 8th St, Medford, WI 54451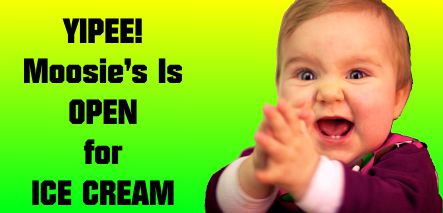 Just for Ice Cream right Now. Looking to start making the freshest Pizza in Medford this May. Be sure to look for the OPEN sign, just to make sure we did not close due to weather.
read more
Freshest Coffee in Medford
Come in for fresh hot coffee.  We make custom cappuccinos, espressos, hot and cold drinks and teas.
Check our Facebook Feed for the latest coffee of the day!